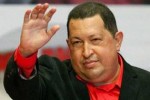 President Hugo Chavez called on revolutionary activists to deploy and mobilize to ensure a victory in the presidential elections on October 7.
The election struggle this year in Venezuela is crucial to secure the continuity of the Bolivarian Revolution, Chavez said during a telephone call with the host of the Dando y Dando program of Venezolana de Television network on Friday.
"That is why I call you, people: Deploy throughout the country! You see the threats of the empire. See what they are doing to Syria, Libya and what they did here on April 11, 2002," he said.
In the conversation, Chavez called on members of the United Socialist Party of Venezuela (PSUV), social movements, young people, students, housewives, members of the Patriotic Pole and other supporters, to deploy from house to house, to conquer and secure the 10 million votes in these elections.
In this regard, he reiterated the need to strengthen unity beyond differences, to neutralize violent actions of the right-wing opposition.
(Taken from PL)