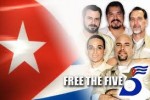 The Law Faculty at the Washington-based Howard University is hosting a forum on Tuesday to demand the release of the five Cuban antiterrorist fighters held in the United States since 1998.
Social activists, students, professors and personalities of US society are taking part at the forum, which was called by the US National Committee for the Freedom of the Cuban Five, as Gerardo Hernandez, Rene Gonzalez, Antonio Guerrero, Fernando Gonzalez and Ramon Labañino are internationally known.
US actor and social activist Danny Glover; the member of the defense team for the Five Martin Garbus, and the dean of the Law Faculty, Okianer Christian Dark will be among the main speakers at the forum, which is being held under the title "Unjustly incarcerated in the United States for Defending Cuba", PL news agency reported.
Also at hand will be Mara Verheyden-Hilliard, lawyer and co-founder of the Association for Civil Justice; colonel Lawrence Wilkerson, former assistant to ex-defense secretary Colin Powel, and Gloria La Riva, coordinator of the solidarity group.
"It's going to be an important event, a new audience made up of law students, professors and the press", said La Riva in a brief email exchange with PL news agency.
The Cuban Five were arrested September 12, 1998 in the US city of Miami while they monitored terrorist plans hatched by Florida-based ultra-right groups of Cuban origin. They were given extremely long sentences in 2001 by a biased Miami court.
The UN High Commissioner for Human Rights, Navanethem Pillay recently ratified in Geneva her interest in the Cuban Five case, which has received the support of a dozen Nobel Peace laureates, among other personalities, and organizations from around the world.