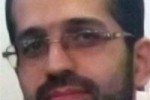 The U.S. government has denied any responsibility for the killing of an Iranian nuclear scientist in a car bomb attack in northern Tehran on Wednesday.  In Washington, National Security Council spokesman Tommy Vietor said the U.S. "had absolutely nothing to do" with the attack.
Thirty-two-year-old Mostafa Ahmadi-Roshan, who worked at the Natanz uranium enrichment facility, was killed along with the driver of the car.  Several Iranian nuclear scientists have been assassinated in recent months, with Iran blaming Israel and the United States.
Iran's Atomic Energy Organization described the killings as "a heinous act."  And Iranian Vice President Mohammad Reza Rahimi said on state TV that the bomb attack would not stop progress in the country's nuclear program.
Iranian officials said two men on a motorcycle attached a magnetic bomb to his car during the morning rush hour and detonated it outside the university campus.  Ahmadi-Roshan was killed instantly, while his driver died later of his wounds.  A third occupant of the car was injured and taken to an area hospital.