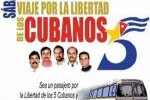 The campaign "Five Days for the Cuban Five" to demand the U.S. government to release five Cuban antiterrorist fighters unjustly held in U.S. prisons immediately will conclude on Saturday in this capital, with the hope of having promoted consciousness and gained supporters.
Today's activities include the debate "Obama Give me Five," which opened at a community center on Friday, where participants will support the cause of Gerardo Hernandez, Rene Gonzalez, Ramon Labañino, Antonio Guerrero and Fernando Gonzalez.
The five, as they are known internationally, were arrested on September 12, 1998, in the U.S. city of Miami.
A rigged trial held there in 2001 resulted in sentences ranging from double life to 15 years in prison.
They only alerted Cuba on terrorist actions by Florida-based terrorist groups.
The talk will be preceded by an exhibit of cartoons by Gerardo Hernandez, entitled "Humor desde el Encierro" (Humor in Captivity).
U.S. former diplomat in Cuba Wayne Smith, attorney Jose Pertierra, French professor, writer and researcher Salim Lamrani, and actor Danny Glover will be the panelists, according to the website of the International Committee to Free the Five, which is sponsoring the event.
Papers will deal about the cases of the Five, the over-50-year-old of blockade on Cuba and the maintenance of the U.S. naval base in Guantanamo, a portion of Cuban territory illegally occupied against Cubans' will.
Travel bans on U.S. citizens and the inclusion of Cuba in a list of terrorist countries are also on the agenda, the release said.
Since Friday at 18:00 hours, local time (22:00 GMT), the Cuba channel in Washington on Justin TV is broadcasting live via Internet the panel dedicated to the five Cuban antiterrorist fighters.
According to the website, broadcasts will begin on Saturday at 16:00 hours, local time (20:00 GMT).  (Taken from PL)