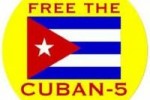 Mary Eugenia, the sister of Cuban antiterrorist Antonio Guerrero, was uncertain about his transfer to the prison at Florence Correctional Center in Oklahoma, United States.We do not how long he will stay there and what will be his final destination, said Maria Eugenia in a message sent to people in solidarity with the cause of Antonio and four other detainees in the northern country since September 1998.
My brother has been transferred from Florence prison on Friday and now is at the Oklahoma prison, and may be in the hole, as in other previous occasions when he had to go through that prison, she denounced.
Above all you can be sure he will not lack inspiration to continue writing and giving love to all, added his sister in the text posted on the www.cubadebate.cu site.
She also promised to inform when Antonio can get in touch with his friends, whom she said were his daily companions as he endured the injustice, and gave him hope for his release.
Guerrero has beein in prison in the United States for more than 13 years, since he was arrested along with Gerardo Hernandez, Ramon Labanino, Fernando Gonzalez and Rene Gonzalez. The latter is on parole for three years, but prevented from returning to Cuba by the arbitrary ruling of a Florida Judge.  (Taken from PL).