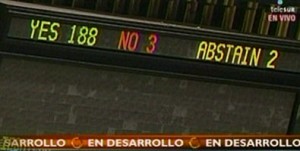 The UN General Assembly expressed its overwhelming rejection of the US economic blockade of Cuba by adopting the island's resolution demanding the lifting of the US measure, with 188 votes in favor.
The only votes against came from the United States, Israel and Palau, while the Marshall Islands and Micronesia abstained.
The Cuban resolution, adopted for its 21st time in a row condemns the US siege of Cuba which has inflicted the island damage calculated at one trillion 66 billion dollars, up to December 2011.