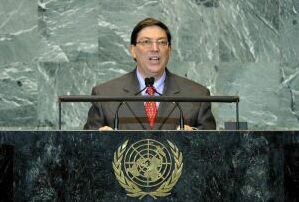 Cuba reiterated today, before the United Nations Organization, its condemnation to the economic, financial and commercial blockade imposed by the U.S.A. on the island for over half a century.
When addressing the participants in the Sixty Seventh Session of the UN General Assembly, Cuban Foreign Minister Bruno Rodríguez Parrilla explained that the blockade has led to invaluable human damages, and to huge economic losses -over a billion dollars up to December, 2011.
That siege has been condemned for 20th consecutive years by the General Assembly, a body that will approve in November another resolution entitled "The Necessity of Ending the Economic, Commercial and Financial Blockade Imposed by the United States of America against Cuba."
In 2011, that document was adopted by 186 votes for, with only two against: the United States and Israel.
Cuba denounced 10 days ago that the U.S. blockade has caused economic damage valued at 1.066 trillion USD until December 2011, considering the depreciation of the dollar against gold in the international market.
Rodriguez met here on Saturday, September 29, with the UN Secretary General Ban Ki-moon, who explained the consequences of the intensification of that siege during the last years, especially in the financial sector.
This year, the condemnation of the blockade against Cuba has been part of the speeches by heads of State and Government, foreign ministers, and senior officials from more than thirty countries.