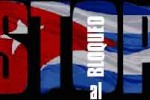 The government of the United States has confiscated more than 493 million dollars from Cuba since 2010 to date, as part of the isolationist policy and economic blockade that Washington has imposed on the Caribbean nation.The amount of money was confirmed in a communique from the Office of Foreign Assets Control (OFAC), attached to the U.S. Department of Treasure, which describes Cuba as a nation that sponsors terrorism.
Under the same concept, Washington had already frozen 223.7 million dollars from Cuba in 2009. The document also says that U.S. authorities have blocked six properties of the Cuban State in New York and Washington. For 50 years, the United States has imposed an economic, commercial and financial blockade on Cuba that has cost the island more than 975 billion dollars and is a violation of the UN Charter and international law.
The international community has condemned that political interventionist and extraterritorial policy by the U.S. government against a small island nation for 20 consecutive years at UN General Assembly.
Sociologists, political analysts and professors from different countries met in December in Washington in the context of an International Conference to have Cuba deleted from a controversial list of nations sponsoring terrorism.
The United States included Cuba in the polemic list in 1982, at the request of then Secretary of State Alexander Haig and a resolution certified by then President Ronald Reagan.
The Latin American Working Group and the Center for International Policy sponsored the seminar, which was attended by Wayne Smith, former U.S. diplomatic representative in Cuba, and Robert Muse, from the firm of lawyers Muse and Associates, among other academics.
One of the most cynical aspects of Washington's politics has been to keep Cuba in this ignominious category of "sponsors of terrorism" without the no evidence to sustain such an accusation, according to a declaration from the conference.
Recent reports from the Department of State admit that Cuba "implements a public clear position against terrorism and the financing of extremist actions."
Two weeks ago, the influential U.S. Brigadier General John Adams called on the United States to delete Cuba from the list of countries that sponsor terrorism and to end its counter-productive policy against the island nation.
Separated from active service since 2007, but with a strong influence on high spheres of the Pentagon, Adams accumulated more than 35 years of experience in military missions.
Washington's former representative in the North Atlantic Treaty Organization (NATO) added that the White House's hostile policy harms the interests of U.S. companies and workers by justifying a commercial blockade against Cuba that prevents the creation of new jobs in the United States. (Taken from PL)