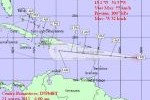 Tropical Storm Isaac is centered 390 miles east of Guadeloupe in the Leeward Islands, and according to Cuba's Climate Forecast Center, it may affect Cuba as it moves on a westward course at 18 mph.
During the next few days tropical storm Isaac is expected to intensify further, due to the existing environment of low wind shear and warm water.
Isaac is expected to intensify into a hurricane on Thursday as it passes just south of the Virgin Islands and Puerto Rico, Accuweather.com said Wednesday.
Beyond Thursday the tropical cyclone could intensify to Category 2 status before it starts to interact with the higher terrain of Hispaniola and eventually Cuba later this week and into this weekend.
A weakness in the upper atmosphere over the eastern United States will extend into the eastern Gulf of Mexico causing Isaac to turn northwest Thursday through Friday.
This will bring the tropical cyclone over or near southeast Haiti Saturday and then into southeast or central Cuba on Sunday. (Taken from RHC)