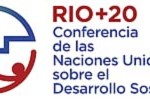 Tight security operations have been carried out by the military and other repressive institutions in Brazil, prior to the United Nations Conference on Sustainable Development, Rio+20, an official source said on Wednesday.
The head of Social Communication of the Eastern Military Command, Colonel Saul dos Santos, said the goal is to ensure the safety of delegations to the Rio+20 meeting, scheduled from June 13 to 22, with a summit in the last three days.
Protection also covers participants and activities of the People's Summit, an event that will be held parallel to the Rio+20 meeting.
Dos Santos told the state Brazil Agency that the whole scheme will be fully operational on June 6 and will run until June 29, and includes actions at the federal, state and municipal levels, as well as operations by sea, air and ground.
The colonel added that to be more effective, the operations will have a coordination center, which will be established in the Eastern Military Command and will involve 40 agencies of the state of Rio de Janeiro.  (Taken from PL)