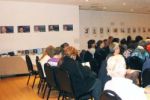 Sources from the International Committee for the Freedom of the Five confirmed Escambray on the presence of Rosa Aurora Freijanes, wife of Fernando Gonzalez, and pacifist leader Cindy Sheehan, in the XI Labour Conference to be held in Tijuana, Mexico.
Solidarity friends, union leaders, and social organization activists from Latin America, will demand the immediate release of the Five antiterrorist fighters during the XI Labor Conference, to be hosted August 17th to 19th, in the border city of Tijuana, in the Mexican State of Baja California Sur.
According to Alicia Jrapko, coordinator of the International Committee for the Freedom of the Five in the United States, the attendance of Rosa Aurora Freijanes, wife of Fernando Gonzalez, and Cindy Sheehan, the US pacifist leader who joined this cause in 2006, has been confirmed.
The forum, to be attended by representatives from Venezuela, Brasil, Ecuador, Porto Rico, Mexico, the U.S.A. and Cuba, will dedicate part of the Friday 17th discussions to the Five, who have been kept in US prisons for almost 14 years now.
The meeting will update the participants on the Cuban Five case, and is part of the international campaign in favour of the immediate return to Cuba of Gerardo Hernández, Ramón Labañino, Fernando González, Antonio Guerrero and René González.
In 2007, Irma Sehwerert (mother of Rene González), was the first of the Cuban Five's relatives to attend this kind of conferences celebrated in Tijuana. Fernando González's mother, Magali Llort, went to the forum in 2008.
Ailí Labañino, one of Ramon's daughters, was invited to attend the seventh Tijuana conference, in which a political caricature exhibition by Gerardo Hernández was displayed. On that occasion, she denounced the strong political character of the penal process followed against the Cubans.
These meetings have also echoed the agreements reached at the International Colloquium for the Cuban Five Release, which is held every year in the eastern Cuban province of Holguin.
Several audioviosuals on the Five have been shown in the Tijuana forums, like US filmmaker Saul Landau's documentary Will the real terrorist please, stand up?.