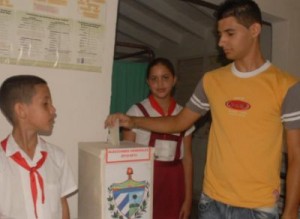 Despite the rain reported in Yaguajay, over 260 000 residents of Sancti Spiritus had already exercised their right to vote at mid day this Sunday.
According to information from the Provincial Electoral Commission (CEP, in Spanish), people continue to go to the 1202 polling stations opened in this central Cuban province, already attended by nearly 70% of local voters. It was also informed that no negative incident has been so far informed about.
The second round of the elections will be held next October 28th in those constituencies where none of the candidates got over 50% of the valid votes.
General elections take place in Cuba every five years to vote for the delegates to the Municipal and Provincial Assemblies of the People's Power, as well as the deputies to Parliament.
On the other hand, partial elections are held every two and a half years, so, grassroots representatives are the only ones to be voted for in both occasions.
[nggallery id=35]