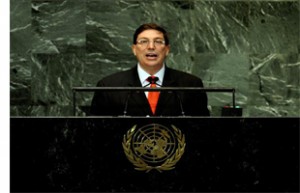 The over-50-year US economic, commercial and financial blockade of Cuba will again be overwhelmingly condemned by the international community on Tuesday when the UN General Assembly votes a new Cuban resolution demanding the lifting of such a criminal policy.
An article on Granma newspaper recalls that this will be the 21st occasion that the UN General Assembly will condemn through the vote of its member states the US measure in force for over 50 years against the Cuban people.
Year after year, the Assembly has adopted the document titled Necessity to End the Economic, Commercial and Financial Blockade imposed by the United States of America against Cuba.
Last year, the resolution was adopted by 186 out of 193 UN member states, only with the United States and Israel voting against and with the abstention by  the Marshall Islands, Micronesia and Palau.