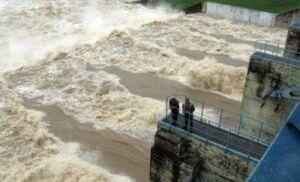 Since 1972, the concern for the Zaza Dam has increased in Sancti Spiritus and Cuba as well, because nowhere else in the country such a volume of water can be stored.
Contrary to what one might think, only 11 times in its four decades of operation, the volume has exceeded the 1000 million cubic meters of water, which is an evidence of the large runoffs needed to fill the Zaza.
In October 1972, the dam reached a maximum of 730 million, according to the statistics compiled by the National Institute of Hydraulic Resources in Sancti Spiritus.
Six years later the Zaza exceeded the figure of 1000 million (1080), considered the second highest accumulation of the reservoir
The list of historical volumes of the dam exceeded six times its normal capacity, 1 020 million, while on June 13th, 2002, it reached the highest storage of all times, 1293 million.
The 2012 has made remarkable contributions to the hydrological Zaza records: it was the only year the reservoir exceeded twice the 1 000 million, on May 25th (1039) and on October 26th (1062), cumulative classified as the fourth and third largest, respectively, since its construction.
The opposite side of that exclusive list of historical volumes points to 1984, when with 391 million the dam recorded the lowest annual level in four decades, although it has never reached the category of dead volume, which is 90 million cubic meters. On May 4th, 1976, the storage dropped to 99.6 million, the lowest reported for all times.
With the rainfall associated to the wet period recently ended, the dam recorded two unusual statistics: 800 million cubic meters of water arrived in just 48 hours during the heavy rains of May and, the 1 471 million evacuated through the spillway Cayajana between that month and October, when the floodgates needed to be opened on 65 occasions.