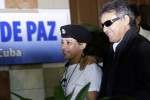 The insurgent Fuerzas Armadas Revolucionarias de Colombia-Ejercito del Pueblo (FARC-EP) ordered an unilateral ceasefire, to facilitate the peace talks with their country's government that began on Monday in Havana.
After his arrival to Havana's Convention Center, Ivan Marquez, head of the negotiating team of the FARC-EP, read a communiqué, by way of which the secretariat of the General Staff of that guerrilla informed about the decision of suspending offensive military operations against the police, as well as the acts of sabotage.
This initiative, in force for two months as of Tuesday, November 20, is a contribution to strengthen the necessary climate of understanding, so the parties holding talks achieve the objective wanted by all Colombians, reads the document.
It also urges the government of President Juan Manuel Santos to declare a ceasefire and the cessation of hostilities, taking advantage of the Christmas spirit.
The text asserts that the decision made is a demonstration of the willingness of that rebel force to create a favorable environment so as to achieve the progress of negotiations and reach a real Peace Treaty that puts an end to the social and armed conflict that South American country is living.