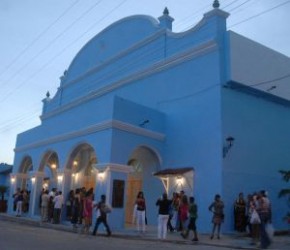 With a sui generis show recalling significant passages in its history, Sancti Spiritus Teatro Principal (Principal Theater), one of the oldest theaters  in Cuba, reopened after turning 173 years. The theater integrates a set of institutions and sites that stand out for its heritage values.
The performing arts, the dance and the peasant and classical music combined on Sunday during a gala in which artists from the Cuban central territory remembered moments of the official opening of the facility on July 15th, 1839.
According to the organizers of the festive occasion and the public, one of the significant moments of the evening was the presentation of the pianist and composer Jose Maria Vitier, who delight the audience with works like the one for the television series "En silencio ha tenido que ser".
A few months ago when I gave a concert in this town, I promised I would come to the reopening of the theater, I am very happy and proud to come back and see an institution that emerges for the good of the national culture, Vitier said in statements to the press.
Following the general restoration, which took more than a year and involved hundreds of workers from multiple entities, the neoclassical building ran its curtains again, but with a scene of 200 square meters and a significant improvement in the technical conditions.
In words of Julian Gonzalez Toledo, viceminister of Culture, the repair of the building that has 329 front stalls has been a feat because huge efforts were made to preserve its architectural features, the construction of five dressing rooms and the installation of modern audio systems, lighting and acoustic panels.
The challenge now-said Gonzalez Toledo-is to preserve and maintain a high artistic and aesthetic programming level which contributes to the development of the various manifestations of arts.
Located in the historic center of the former village founded in 1514, the Teatro Principal now integrates a set of institutions and sites that stand out for its heritage values, as the bridge over the Yayabo River, the Parish Church and the House of the Guayabera.
By Yainerys Avila/Translated by Escambray