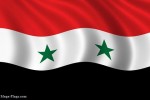 Despite the internal crisis, Syria keeps implementing its process of reforms with the opening this weekend of the electoral campaign for the May 7 legislative vote.
Out of all 250 parliament seats, 127 will be occupied by workers and farmers, according to a presidential decree, PL news agency reported from Damascus.
Deputy Interior Minister for Civil Affairs, brigadier general Hassan Jalali, said that nearly 14.8 million citizens are eligible to vote next May 7, in what is consider the first multi-party elections stated by the new constitution.
Meanwhile the president of the Supreme Electoral Council Khalaf al-Ezawi announced that the registered figure of candidates in the country to contest the election reaches 7 195 in all. This includes 2 632 persons with university degrees, being 710 of them women.
In his announcement al-Ezawi said that voters will be free to pick those candidates they consider as the best ones, and he noted that the constitution stipulates a legal framework for free, fair and democratic elections.
The nine political organizations approved thus far include the Solidarity Party, al-Watan, the Democratic Syrian Party, Al-Ansar, Democratic Al-Talea, Democratic Arab Party, National Development, the National Syrian Youth Party, and the National Youth for Justice and Development Party. (Taken from RHC)