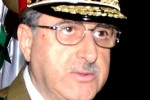 Syria's Defense Minister, General Dawood Rajiha was killed Wednesday as a result of a terrorist bomb attack against the National Security headquarters in the capital Damascus.
According to the Syrian Arab National Agency (SANA), the terrorist action also killed deputy Defense minister, General Asef Shawkat and seriously injured other ministers and senior officials who were meeting in the building when the terrorist action took place.
Minister Rajiha, who was father of four children, occupied several military posts including battalion and brigade commander and director of a number of directorates and departments at the Armed Forces, and he was appointed Deputy Chief of General Staff in 2004 and later Chief of General Staff in 2009, SANA reported.
Taken from AIN