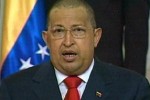 Venezuelan President Hugo Chavez has 59.4 percent of the vote for the elections on October 7, according to the latest survey by International Consulting Services, disclosed on Friday.
During an interview with Venezolana de Television, the president of the pollster, Juan Scorza, said that the opposition candidate Henrique Capriles, representative of the so called Democratic Unity Table reaches 29.1 percent.
According to the specialists, there is a slight trend of growing in the presidential nomination, a situation that is unlikely to amend given the wide margin, while that of his opponent suffers a decline.
On the other hand, the 72 percent of respondents appreciates the president's management and 27.5 that considered negative, the study showed between 26 and 30 May.
A 76 percent considered reliable the National Electoral Council, which forecasts z very civic and open strife, Scorza said.
Regarding to the health of Chavez, a 68 percent are currently considered better or much better, a 8.5 looks him worse and a 62.8 considers he will be better.
Regarding to the economic situation, a 46.5 percent considered it better or somewhat better compared with 2011 and a 16.9 considered it worse, while a 59.6 percent has positive expectations in this area for the next 12 month.
So far, every survey showed that Chavez will obtain the reelection with a wide difference before his opponent. (Taken from PL)