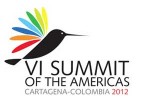 The 6th Summit of the Americas was the expression of dramatic changes in the political reality of Latin America and the Caribbean, according to Oscar Figueras, General Secretary of the Communist Party of Venezuela (PCV).
In a press conference at the PCV headquarters in this capital, Figueras put forward the stand of the political organization about the continental meeting held over the weekend in Cartagena de Indias, Colombia.
He said the summit was also a demonstration of most countries' willingness to advance in strengthening Latin American and Caribbean independence, sovereignty, integration and unity.
"All this enters in conflict with the objectives of US imperialism, that is maintaining our countries' subordination and dependence," he said.
The General Secretary of the PCV referred to excessive secrecy imposed by the United States and Canada in the summit, which prevented debates of participants from be made public.
He said that Imperialism and big business talk very much about liberties and freedom of speech, but when their policies are different from those of the majority, they try to silence the opinion of the majority.
That's why the summit of Cartagena was also a demonstration of the increasing isolation of the strategy followed by the United States and Canada regarding the continent.
Figueras noted that an agreement on regional security was signed during US President Barack Obama's stay in Colombia, but he wondered "security for whom, security to defend what?", and warned of the threat it poses along with the so-called Internationalist Democracy Foundation led by ex Colombian president Alvaro Uribe.
Prospects are opened for regional unity and integration and for development of a process of change in mechanisms traditionally used by the United States and its allies to subordinate Latin America and the Caribbean, Figueras told Prensa Latina.
"In this regard, from our perspective, the results of this summit strengthen Latin American and Caribbean spaces," he said.
Taken from Prensa Latina