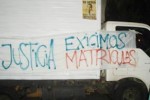 Demonstrations against layoffs of professors, expulsions of students from colleges and privatizing laws marked the week ending on Saturday in Chile with a familiar rally demanding another educational model.During a first teachers' protest on Wednesday, demonstrators denounced the layoffs of almost 6,000 professors throughout the country and more than 2,000 of them in Santiago for supporting the students' rallies last year.
The leaders of that union called the attention on how unemployed teachers of the Metropolitan region belong to communities whose councilors are aligned with or are an active part of the Chilean extreme right.
Jorge Abedrapo, president of the Metropolitan College of Teachers in Santiago, described as disastrous the situation created in the municipalized educational sector, above all the drama suffered by a high number of professors on contract, who were laid off without any compensation.
The Arms Square in Santiago on Thursday was again the epicenter of another protest against market education, which focused on denunciations of expulsions of hundreds of junior high students who mobilized in 2011. The return to the Alameda Avenue is announced for April 25 with a march starting from the emblematic Italy Square to the Mapocho Station Cultural Center in Santiago. The march will reject mercantilism in education in Chile. (Taken from PL)