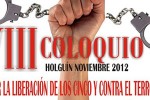 The International Colloquium underway in Holguin called Internet users to condemn the injustice against the Cuban Five.
Supportive people from around world will demand the release of the five Cuban antiterrorist fighters held in the United States since 1998 with solidarity messages on Twitter, Facebook and other social networks in response to a call by the 8th International Colloquium for the Freedom of the Five and against Terrorism, underway in this eastern Cuban city.
Starting at 10:00 local Cuba time, Internet users will be able to condemn the injustice prevailing against Gerardo Hernandez, Fernando Gonzalez, Ramon Labañino, Rene Gonzalez and Antonio Guerrero, internationally known as the Cuban Five.
Colloquium organizers said hash tags to be used in English and Spanish on Twitter are #FreetheFive, #ObamaGivemeFive #Coloquio5, #HolguinxLos5, #LiberenlosYa, and #Noalterrorismo.
On Twitter the account @Coloquiocinco will be giving information about the event during the day, while those who are on Facebook can receive updates at Coloquio Cinco group.
Over 380 delegates from 47 countries are participating in the forum as they address different working strategies to keep denouncing the injustice against the Five and to demand their release.
The Cuban Five were given extremely long and unfair sentences after they monitored Florida-based violent organizations that have committed terrorist acts against the Cuban people.