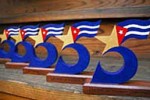 Social movements participating in the People's Summit in Rio de Janeiro urged U.S. President Barack Obama, to honor his status as Nobel Peace Prize laureate and free the five Cubans unjustly imprisoned in the United States since 1998.
Representatives of these organizations appealed to the sense of justice and humanity of the U.S.head of state, so that Gerardo Hernandez, Fernando Gonzalez, Ramon Labanino, Antonio Guerrero and Rene Gonzalez are released and can return to their families in Cuba.
The call for the release of the Five was made during a solidarity act held in the context of the important forum underway in the populous Brazilian city.
At the meeting,former president of the General Assembly of the United Nations, Miguel Descoto, said that the Five were jailed for opposing terrorism and paradoxically by the most terrorist, murderous and genocidal empire the world has known.
The People's Summit is an alternative to meeting the United Nations Conference on Sustainable Development Rio +20, and aims to expose the real causes of environmental and socioeconomic degradation.
The Cuban Five were jailed in September 1998 for reporting on violent schemes by far-right anti-Cuban groups based in Miami and convicted in 2001 on alleged espionage charges. They were given unjust sentences raging up to life imprisonment.