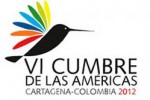 President of Bolivia Evo Morales urged the United States to listen to the peoples' clamor regarding the inclusion of Cuba and Argentina's sovereign over the Falklands.
In his closing speech of the Social Forum held in this city prior to the 6th Summit of the Americas, Morales addressed directly US Secretary of State Hillary Clinton.
"It is worth recalling Clinton's words when she says that exclusion and discrimination must end; with all due respect, I appeal to a US woman to join Latin American countries in calling Cuba to this summit," he said.
The Bolivian president also urged Washington to join the claim that the Falklands belong to Argentina and Latin America.
The United States and Canada are the only countries in the continent that oppose Cuba's attendance to the Summits of the Americas and refuse to support Argentina in its claim of sovereignty over the Falkland Islands.
The region has closed ranks around these two issues, urging these nations to listen and rectify on time; otherwise, such summits will be over.
These claims are also backed by several social and political organizations of the hemisphere, which have denounced the White House manipulation and pressure to isolate Cuba.