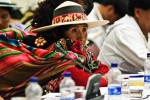 The Fifth Peoples Summit will conclude on Saturday with a march in this Caribbean city, which also takes place during the Sixth Summit of the Americas.The attendees to the alternative and independent Forum will tour several streets of the beach resort city but can not reach its historic center, because of the highly militarized and under tight security measures.
Towards the outskirts of the city center, Prensa Latina found, on a tour, the presence of military, police and riot squads heavily provided with arms and positioned in different places.
Likewise, Many of the streets are completely closed, which prevents the passage of both vehicles and pedestrians.
However, those attending the Summit of the People will march peacefully to raise the real voice of America, as confirmed by the organizers.
While the official summit is still immersed in several dilemas, the alternative forum has not only welcomed Cuba as a special guest and a representative delegation, but also expressed solidarity with the island for having been excluded from the Sixth Summit of the Americas.
During the development of discussions at the Summit of the People was invited Mario de la Ossa, representative of the social and farmers movements in the Caribbean country.
De la Ossa denounced the economic, financial and commercial blockade imposed by the United States against his country for over half a century and described in detail the social, political and economic reality of the island.
He also indicated the willingness of the Cuban people to contribute to a real and effective continental integration, but without Washington's interference.
The V Summit of the Peoples called for unity of the continent to articulate civil resistance and social demands of the region.