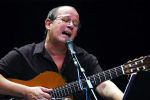 Cuban singer Silvio Rodriguez, author of songs like Ojalá and Unicornio azul, announced on his blog Segunda Cita he will perform in Argentina next November.
Rodriguez confirmed on his blog that he will be on November 23 and 24 at Luna Park, Buenos Aires, and 26 of the same month at the Union Stadium in Santa Fe city.
This short trip around Argentina was enthusiastically welcomed by regular Internet readers of his blog.
Also, Rodriguez, who has been performing for months in neighborhoods in Havana, said in his website Zurrón del Aprendiz, that in September he will perform in the communities of Águila, Hatuey, Cotorro; and Micro 10, East Havana accompanied by the flutist Niurka González, his wife-and the trio Trovarroco.
Silvio Rodriguez, 65, performed in Argentina on November 18, 2011, for the last time, after a tour around several cities in the South American nation with a concert in Buenos Aires at Cerro Stadium.  (Taken from PL)