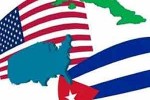 Cuba's removal from a list of terrorist-sponsor nations on Tuesday is an increasingly frequent demand in U.S. academic and political groups.
An investigative group from both countries, gathered in this capital, demanded to immediately exclude Cuba from the annual compendium with which the Department of State aims to certify the nations respect to its alleged support to extremist groups or activities.
The Cuba-U.S. Academic Workshop (TACE), comprised of nine U.S. academicians from the American University, eight Cubans from the University of Havana and some guests, presented some recommendations to improve relations among both countries.
A Cuban proposal on cooperation to jointly fight that scourge is among them.
Also included is the proposition that retired soldiers and former ambassadors could visit Cuba to hold exchanges.
They also expect that both governments negotiate an institutional accord in the anti-drug struggle, in the conservation and management of fishing resources, mitigation of earthquakes and disasters such as oil spills in the Mexican Gulf.
This is the first time that the binational academic commission publicly presents its recommendations.
The group has met six times since June 2009, as an initiative from the Regional Coordination for Economic and Social Research, a network with over 70 Latin American research centers underway in Buenos Aires.
American University profesor Philip Brenner explained during a lecture at the Brookings Institution that to face terrorism is an area where there could be a constructive approach.
We have the intention to give some ideas on what issues we could positively work and do not need to create a critical mass or consensus because they have been already analyzed in that direction, stated Jorge Mario Sanchez, the only Cuban member of TACE who attended the lecture.
U.S. Brigadier General John Adams in March demanded Washington to remove Cuba from the mentioned list and end its counterproductive and hypocritical policy towards the island,.
Maintaining Cuba in the Department of State's list is an anachronism that undermines Washington's efforts in its struggle against terrorism, the retired soldier said in an article also signed by federal lobbyist David W. Jones, inserted in U.S. congressional newspaper The Hill.
Taken from Prensa Latina