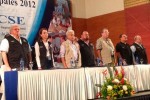 Nicaragua's Supreme Electoral Council announced the Sandinista National Liberation Front (FSLN) won 134 of 153 mayoral offices in the municipal elections held on Sunday, November 4th.
The head of the electoral body, Roberto Rivas, said the preliminary data was released after counting 98.7 percent of votes cast at the polling stations.
The official explained the results in each of the 153 municipalities and confirmed that the Independent Liberal Party coalition won in 12 municipalities.
Rivas said that with a turnout of more than 57 percent, the latest municipal elections in Nicaragua were the most well-attended in recent years, since municipal and general elections began to be held separately.