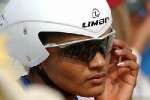 Five times medallist in world tournaments, cyclist Yumari Gonzalez aims at qualifying for London's 2012 Olympics. Yumari currently trains in the Cuban central province but she expects to be travelling soon to Havana's cycle track Reinaldo Paseiro, headquarter to the national team.
By Randy Vasconcelos
Sancti Spiritus cyclist targets London World Cup, to be held from February 19th to 22nd. She also intends to participate in the Pan American tournament to take place on March in Mar del Plata and in El Salvador tour.
The athlete's main objective this year is to qualify for London 2012 Olympic, scheduled to begin on July 27th and end on August 12th. Only months away from the great event, time is not to be wasted.
And Yumari knows it for sure. The cyclist last actions were in December as she was involved in Colombia's Great Caracol Price. She also cycled Cali's World Cup in which she was best placed in the scratch event, finishing in the 6th position.
Before those events, Yumari participated in the Guadalajara Pan American Games where she obtained two silver medals, increasing her collection to six medals in continental events.  (Translated by Escambray)