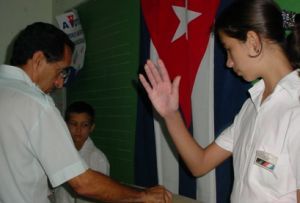 A total of 1200 polling stations are to work in Sancti Spiritus during the upcoming elections of delegates to the Municipal Assemblies of the People's Power, convened for October 21st in Cuba.
According to Margarita Pasaron, secretary of the Provincial Electoral Commission, the next step consists of bringing into public knowledge the voting stations of the 696 constituencies in the Cuban central province, which must be easily accessible facilities with ideal conditions for the vote to take place.
According to the provisions of the Electoral Law in Cuba, in each district so many polling stations are created as needed, taking into account the number of voters living in the demarcation, so that those who will exercise the voting may count on the necessary fluency for the full exercise of democracy, since there is where the voting and the scrutiny take place, as soon as the suffrage ends, and the results of the process are publicly disclosed.
At present, said Margarita, the province is ready to start next Monday the nomination process of candidates for delegates of the People's Power, for which 2141 areas of nomination of candidates have been enabled.
In each district it is a must to ensure a major presence in the various assemblies and that the people, in their capacity as voters, postulate as candidates those who, regardless of their age, skin color, sex or occupation, have a legal capacity for nomination, and the virtues and merits to represent them before the local government.
The People's Power elections are held in Cuba every two and a half years, and the general every five, so that the only charge that is carried to the polls in both occassions is that of the district delegates, who constitute as a whole the Municipal Assemblies.
During the general elections called for this year not only the representatives of each municipality will be nominated and voted, but also, in a second phase, the delegates of the provincial assemblies and deputies to the Cuban parliament.