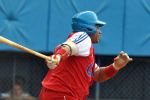 Sancti Spiritus Frederich Cepeda, Yuliesky Gourriel and Ismel Jimenez are members of the Cuban team participating in the upcoming Harleem Baseball Week, to take place from July 13th to 22nd.
According to an information of the Cuban News Agency, the team from the island was announced when the friendly dual meet between Cuba and the USA came to an end on Monday.
The list of 24 players includes catchers Ariel Pestano and Frank Camilo Morejon, infielders Jose Dariel Abreu, Yuliesky Gourriel, Rudy Reyes, Barbaro Erisbel Arruebarruena, Aledmis Diaz and Alexander Guerrero.
The outfields will be defended by Frederich Cepeda, Alfredo Despaigne, Rusney Castillo, Guillermo Heredia, Alexei Bell and William Luis, the latter with extraordinary performance as pinch hitter in the bilateral series vs. the USA.
Cuban hurlers to the event are righties Yadier Pedroso, Odrisamer Despaigne, Dalier Hinojosa, Freddy Asiel Alvarez, Ismel Jimenez, Vladimir Garcia and Pablo Millan Fernandez, and lefties Norberto Gonzalez, Leandro Martinez and Darien Nuñez, who was selected as rookie of the year in the past Cuban championship.
The Cuban team will be lead by its showman Victor Mesa, manager of Matanzas Crocodiles in the local tourney.
Taken from AIN/Translated by Escambray