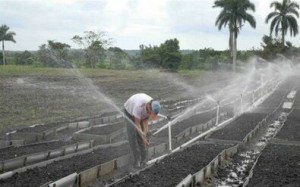 Nearly 10 000 plots of tobacco plants are being taken care of by planters from Sancti Spiritus, in order to support the hit-by-hurricane Sandy eastern provinces.
By Cristóbal Alamo (AIN)
According to Osmel Pérez, head of the tobacco enterprise in this central Cuban territory, it is possible to send 25 million tobacco seeds to those provinces, since we have enough conditions to meet the scheduled plans, and to support other regions as well.
Local tobacco producers are still recovering from the damages of the recent heavy rains, which spoiled over 4 000 plots. Nevertheless, existing seedlings are sufficient for the upcoming November and December sowing time.
Sancti Spiritus is Cuba's second tobacco producer after Pinar del Rio, and almost all cultivation is run here by well experienced farmers and cooperative members.
(Translated by Escambray)