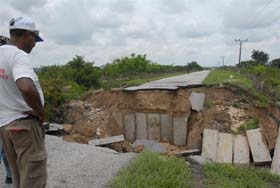 The heavy rains hitting Sancti Spiritus province, in central Cuba, caused great damage to the roads in the territory, which constitute the most important sequel of the climatic adversity, as the Provincial Defense Council recently noted.
In a meeting held on Monday night, the Meyer-Trinidad railway route was reported as severely affected due to landslides in 432 line meters and the destruction of some engineering structures, situation aggravated by difficulties in the transportation of materials to the region.
It was also known that several viaducts were impacted in roads, routes and embankments, in which constant works are being carried out to restore definite or provisional transportation.
Construction Ministry's task forces began the detour to link the village of Siguaney with the central highway, interrupted by the destruction of an engineering structure that prevents the cement and asbestos cement factories to move their productions.
According to officials from the Basic Electric Organization (OBE, for its Spanish acronym), the service has been already brought back to Sancti Spiritus province affected areas and some brigades of that entity continue to check the communities located downstream the dam, whose residents were evacuated on time.
The resumption of the rice crop in the areas of the Complex Sur del Jibaro, the drainage of flooded fields and the repair of damaged channels and embankments are some of the most important responses in the territory.
Jose Ramon Monteagudo Ruiz, president of the Provincial Defense Council, urged to work with swiftness and perseverance to solve the damages caused by the heavy rains.
By Cristobal Alamo Perez/Translated by Escambray