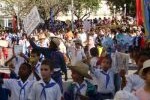 Pioneer students from the central Cuban city of Sancti Spiritus staged this Saturday the traditional January 28th parade to honor Jose Marti. The children were dressed up as the characters of Marti's La Edad de Oro stories and chanted verse lines of his well-known Versos Sencillos poems.
By Donarys Cruz Cruz
According local pioneers' organization sources, the march was also dedicated to the country members of the Bolivarian Alliance for the Peoples of Our Americas (ALBA).
The 159 birthday anniversary of the Cuban National Hero was also commemorated in the rest of the province's municipalities with similar marches.