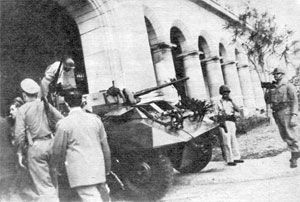 Fulgencio Batista led coup d'etat on March 10th, 1952, was openly rejected by the Cuban people. In Sancti Spiritus, the popular demonstrations were headed by workers and students.
On March 10th, 1952, former general and president Fulgencio Batista furtively got into Havana's Columbia Headquarters,  where he was awaited by a group of plotters who planned to overthrow the existing government. The conspiracy succeeded and a seven-year-long bloody dictatorship was thus begun.
The next corresponding elections were this way canceled. Carlos Prio's corrupt government didn't even try to defend its legitimacy despite the support of the students and, in the beginning, that of the military commands in Matanzas and Santiago de Cuba.
But the people had a violent reaction. In Sancti Spiritus, the students' revolutionary organizations, along with several civic groups, demonstrated against the coup. And, despite Eusebio Mujal's submission to the regime, the workers joined the struggle  to claim for economic and political changes.
Workers went on strike in the then Jatibonico and Escambray sugar mills. The tobacco workers supported the strike in Taguasco, while in Trinidad, much propaganda against the regime was spread throughout the city.
As far as the students were concerned, a rally was summoned at  Sancti Spiritus's  Instituto de Segunda Enseñanza, where well-known leaders harangued against Batista and his government.