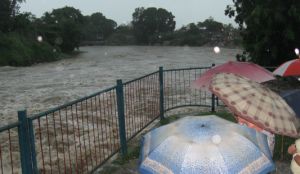 The central Cuban province of Sancti Spiritus was confirmed as the island's most impacted by the latest heavy rain territory. It was such determined in a meeting of the Provincial Defence Council held this Friday, which was presided over by Major General Ramon Pardo Guerra, head of the National Civil Defence in Cuba.
Pardo Guerra called to accelerate the evacuation of the people living downstream the Zaza dam, and to adopt measures to preserve human lives.
During the meeting, the President of the Provincial Assembly of the People's Power Teresita Romero, termed the current conditions of the territory as complex, since the reservoirs are being supplied with water quite rapidly. After two o'clock this afternoon, Cuba's largest water reservoir, the Zaza dam, had already accumulated 995, 000 000m³, very near to its 1 020 000 000m³.
The top governmental leader confirmed that the isolated territories are provided with the minimum indispensable conditions concerning food and health services. This is also true for the evacuees to be sheltered in the different facilities in the capital city and in other areas of the province, she added.
At present moment, damages are being analyzed and quantified.
[nggallery id=21]
(photos: Vicente Brito/Escambray)