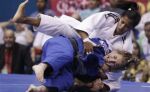 Sancti Spiritus's female judo athlete Dayaris Mestre was awarded one of the four gold medals won by the Cuban team at the Pan American Judo Championship. The contest was took place in Montreal, Canada, and was attended by 149 athletes from 23 countries.According to a Prensa Latina piece of news, Cuba won four gold medals in the last day of individual competition at McConnell Arena, with the victories of Ronald Girones and Dayaris Mestre.
After winning two medals on Friday with Yaritza Abel (in the 63-kilogram division), and Idalis Ortiz (over 78 kilograms), Girones (73) and Mestre (48) obtained the medals of their respective categories, thanks to the victories by Wazari and Yuko over Brazilians Bruno Mendonca and Sarha Menezes, in that category.
Girones had previously defeated Mexican Lee Mata (Ippon), Ecuadorian Fernando Ibañez (Ippon), and US Nicholas Delpopolo (Yuko).
Mestre defeated Canadian Isabel Latulippe (Yuko) in the qualifying games, and Colombian Luz Alvarez (Wazari) in the semi-final games.
Cuban athletes Yanet Bermoy (52), and Yurisleidis Lupetey (57) also won bronze medals over US Angelica Delgado (Yuko) and Argentinean Melissa Rodriguez (Ippon), in the same category on Saturday.
The silver medals for Cuba were obtained by Onix Cortes (70), Yalennis Castillo (78), Asley Gonzalez (90), and Oscar Brayson (over 100), apart from another bronze medal won by Oreidis Despaigne (100).