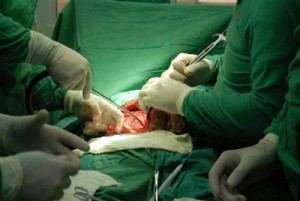 The humanistic, ethical and integrating character of  Cuba's medical cooperation abroad is palpable in about 2000 Sancti Spiritus-born health professionals who currently offer their services in some 40 nations.
Aris Fortain Espinosa, head of the Department of Medical Cooperation, which belongs to the Provincial Health Department, told Escambray that the great majority of collaborators are located in the Bolivarian Republic of Venezuela, in the missions Barrio Adentro.
Since the signing of the Comprehensive Partnership Cuba-Venezuela, by President Hugo Chavez and President Fidel Castro on October 30, 2000, in Caracas, hundreds of health workers of the Cuban central province have contributed to better up the health and quality of life of the South American villagers.
Fortain Espinosa also stressed that a significant number of doctors, dentists, nurses and technicians in various specialties provide assistance in several places, for example in Bolivia and in Africa.
He acknowledged the presence of 15 professionals in Haiti, where they have faced with altruism the aftermath of the devastation caused by the 2010 earthquake and the cholera epidemic more recently.
The Cuban medical aid began after the triumph of January 1st, 1959, when a group was sent to Chile in 1960 to help the victims of a major earthquake. In 1963, the first brigade formed by specialists was created to work in Algeria, Africa.