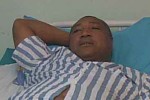 After a long period of medical treatment, former baseball player Lourdes Gourriel, son to Sancti Spiritus, a central Cuban province, recovers in Havana from a cardiovascular affection detected in January.
Dr. Angel Obregon, member of the medical team in charge of Gourriel's treatment, said to the Cuban television that the patient was recovering greatly in Havana.
"Gourriel arrived with a deficit in the left ventricle's capacity of contracting, but he has recovered. However, he needs to undergo a convalescent period as he has only been treated with medication", explained the physician.
Gourriel was admitted in Havana's CIMEQ last February 3rd when he was brought from Sancti Spiritus Provincial Hospital Camilo Cienfuegos, where he received first aid.
From the very moment he was admitted in both hospitals he had been recipient of the Cuban people love, to whom he had been really grateful.
"I'm not at full speed yet, but I certainly feel much better. I want to thank the Cuban people and especially all those from my home, Sancti Spiritus. I can see now that they love me and I have no way to thank them. All I can say Lourdes is not going to die yet", said the former baseball player.