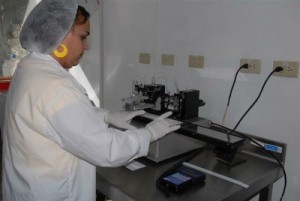 Sancti Spiritus's Genetic Engineering and Biotechnology Center (CIGB, in Spanish) produced half a million pregnancy test strips this year.
This is the only laboratory in the island that produces such pregnancy tests, which are to be used in hospitals and research centres. The test, which is considered 99% effective, is a fast qualitative essay that allows the identification of human chorionic gonadotropin hormone in urine samples.
The Heber Fast Line Rotavirus and Heber Fast Line Anti-transglutaminasa are also produced in this laboratory.
According to the head of the institution, engineer Raul Armas Ramos, the test strips are produced according to the plans agreed upon with the Ministry of Public Health.
Aramas Ramos also said that by producing reactive reagents this year, the laboratory supported the researches being carried out in other institutions of the island.