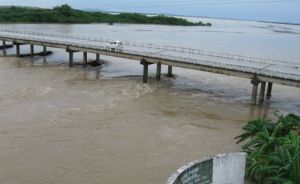 If we were to analyze tropical storm Isaac from the prevention point of view, we must say that it became sort of training exercise for local residents in Sancti Spiritus, central Cuba.
None of the measures adopted was useless, for  each of them was meant to protect both human lives and economic resources. Residents all over the territory were concerned about the possible impact of the tropical storm, particularly those living in locations like Tunas de Zaza, and the north coast. However, Isaac did left positive memories in the hydraulic sector, since the reservoirs were provided with nearly 140 000 000m³ of water.
According to water resources sub-delegate in the province Rafael Rangel, Zaza dam was supplied those days with over 80 million cubic meters of water. This accumulation of water led to the opening of the floodgates at the Cayajana overflow channel, because the water volume went beyond the established 920 million cubic meter level of hydrological precaution.
But Zaza dam was not the only one benefited with Isaac-related rainfalls. All the rest of the reservoirs were provided with large amounts of water as well.
Fortunately, Isaac was no enemy for Sancti Spiritus, and it helped to prove local abilities to save human lives and resources.