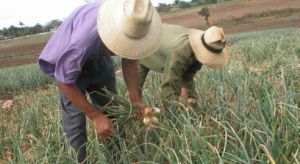 Without giving up on the use of chemicals, especially in crops prioritized in Cuba to control pests and ensure the production, Sancti Spiritus agriculture tends to reduce the use of industrial pesticides in recent years while increasing the work with biological means.
The central territory is one of the provinces in the island with lowest rate of toxic burden in agriculture crops.
"We still use chemicals-explained Carlos Cervantes, director of Plant Health in the Cuban central territory, but we have advanced in its decline and Sancti Spiritus currently ranks among the provinces with the lowest rate of toxic load use on agriculture crops ".
The choice of technology packages favors such a result, says the official, "because we can organize in these prioritized items the use of the substances and we have increased the use of biological means, polyculture, repellent plants and other control alternatives This has allowed to lower the toxic burden, especially in potato and onion".
Although the financial cost of the import of pesticides is implied, specialists in this area in Cuba argue that the the boom of the biological control also responds to the will of the state to channel this strategy directly related to food security, the health of people and the environment.
The current production of biological means in the territory (entomophagous and entomopathogenic) allows to cover only the 60 percent of crops in Sancti Spiritus province, thus, as crops continue to grow, so will do the risks of pests and diseases, and it is reasonable to follow the instructions of Plant Health and biological control.