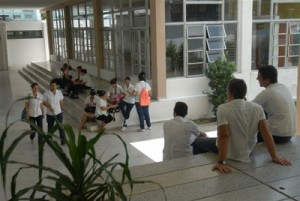 More than 600 students from 32 nations are formed as health professionals in the medical sciences university of the province of Sancti Spiritus.
A comprehensive educational program and the work in the territory care centers  combine in the formation of the apprentices who develop their medical studies in the province, which is fruit of the solidarity in the health sector.
Youth from Latin America, the Caribbean and Africa are in the last year of the medical school in this central Cuban province, which has graduated a significant number of professionals from different continents who are currently working in their respective nations.
A figure greater than 600 girls and boys in the world make up the enrollment of the Medical University  Doctor Faustino Perez  in Sancti Spiritus, institution receiving December 3, Latin American Medicine Day, with a sustained drive in the training of doctors from Cuba and multiple nations in favor of life.
Taken from Radio Sancti Spiritus/Translated by Escambray