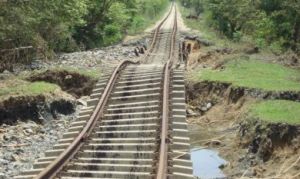 The picture of twisted rails, bare roads, and bottomless hollows could be better connected with a Steven Spielberg production than with the present condition of the railroad that runs from the Cuban village of Trinidad to the town of Meyer, in the Escambray ridge of mountains.
The workers engaged in the repairs of the railway are stunned by what they have been faced with in what is considered an emblematic piece of work of engineering in the island.
It was such considered to acknowledge the daring of those who almost a century ago, decided to go through the mountains with mule trains and steam cranes in order to build up the railway line.
Besides Meyer -which can be only reached via this railway- locations like Manaca Iznaga, Condado, Rio Ay, Guachinango and Los Coquitos have been also impacted by the railroad break.
The situation is even more complex because since 1988, when the bridge over the Agabama river was devastated by a flood, this railroad segment got isolated from the country's railway system. That's why; the arrival of equipments and materials necessary for the task  turns quite difficult.
Railroad delegate in Sancti Spiritus Mariesky Rodríguez informed on the alternative solution which is being evaluated in this case. She also explained that Zaza del Medio-Siguaney and Zaza del Medio-Tunas de Zaza branch lines could be re-opened within the next five to ten days.
[nggallery id=25]
(Photos: Courtesy from the railroad system board)