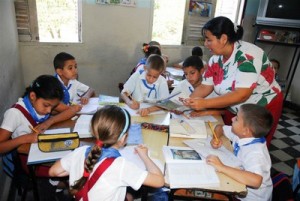 Important experiences and topics are being discussed in Sancti Spiritus in the corresponding municipal forums prior the Pedagogia 2013 (Pedagogy 2013) international event scheduled for February, next year.
Local sources informed that this year, the debates will focused on the work of the professor and his/her professional performance, the training of teachers, environmental education, the overall care to children, and Jose Marti and Fidel Castro's thought in the Cuban educational work, among other important issues.
The so-called Pedagogia forums are being hosted in Cuba since 1995, and have become Latina America's most important event on magisterial affairs. They are attended by representatives from several countries who present their experiences and get to know about that of their Cuban colleagues.
Pedagogía 2013 regional meeting will be celebrated in Sancti Spiritus in October.