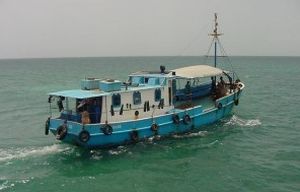 Some fishermen were recognized in a coastal village in Sancti Spiritus for preventing drugs to enter the island and reach the hands of the population.
Members of two boats belonging to the Fishing and Industrial Enterprise (EPISAN) of Sancti Spiritus province, in central Cuba, who detected and delivered to the authorities drugs washed ashore found while conducting catch operations in the south coast, were acknowledged by their peers and various government agencies.
At a ceremony held in Tunas de Zaza, as part of the period of lifting the ban on the lobster, main item of the fishing sector in Sancti Spiritus, Donis Gomez Salas, director of the company, emphasized the humanism and sensitivity of the 11 fishermen, whose attitude prevented the drug from reaching the hands of the population.
Other private fishermen of the coastal community of Casilda will be recognized in the coming days for immediately reporting the presence of narcotics among the mangroves of the area known as Macho Afuera.
Responding to the call made by the direction of EPISAN to work efficiently during the capture of lobsters, which begins this Monday, the workers agreed to meet the requirements and economic indicators to deliver a higher quality product.
Gomez Salas said that although his company could not exceed the amounts planned at earlier stages due to the species little appearance, the surveys carried out to areas in the nearly five months of the ban showed there was a better presence of the crustacean, between 8 and 10 species per fishing boat, which can be reversed in about 130 tons at the end of these early campaigns.
He also said that from September on, the Processing Plant Tunas de Zaza, one of the largest in Cuba, will undergo extensive repairs, which will provide the best comfort to each of the areas of benefit, action to be translated into more efficiency, dynamism and presentation of its productions, which are aimed at import substitution and foreing currency earning through commercializing in the international market.