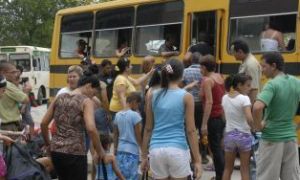 The protected persons in evacuation centers and family homes due to the heavy rains hitting Sancti Spiritus began returning to their domiciles on Monday afternoon by order of the President of the Provincial Defense Council, Jose Ramon Ruiz Monteagudo.
The decision was made taking into account the situation and weather forecasts for the coming days, and the status of the reservoirs in the central region of Cuba, along with the criteria of the Civil Defence and investigations undertaken in the affected areas since May 22nd, which do not account for extensive damage to the communities located downstream the Zaza dam, the largest in Cuba.
Before their return, which started at noon, meetings with the evacuees were held to inform them on the measures to be met once they were back at home, in order to prevent disease outbreaks.
Nevertheless, the Municipal Defense Councils will remain activated until needed, and they will continue to pay a particular attention to the evolution of the hydrometeorological situation.
Some work teams  are expected to remain in each location to assess the characteristics and report to higher levels in cases actions are required. Another provision concerns the adoption of measures that allow electric service, water, food and health in the settlements whose residents were evacuated.
The return of more than 6 000 evacuees to their homes will require the deployment of sanitation actions in a controlled and systematic way, as to prevent the proliferation of vectors .
The losses and damages caused by heavy rains this May, the highest accumulated rainfall in the Cuban province of Sancti Spiritus in the past 80 years, are to be quantified from the reports rendered by the directors of the defense councils, the organizations and enterprises..