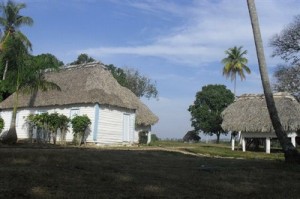 The Regional Ethnographic Museum found in Cabaiguán, central Cuba, is said to be the island's only one of the kind. The location resembles a sort of bucolic spot amidst banana plantations and countryside houses.
Five permanent showrooms which are the hut, the latrine, the house to cure the tobacco leaves, the "vara en tierra" hutch (a yard-high shelter), and the barn, make up an exclusive set that reproduces the way of life of the Canary Islanders who settled in the region by the end of the 19th century and the beginning of the 20th.
Over 200 typical utilitarian items and ornaments are also exhibited, while traditional crops are grown in part of the surrounding lands.
The Regional Ethnographic Museum of Cabaiguán has hosted important traditional events like the Agrarian Biennial meeting, the local Canariguán celebration and the so-called tobacco party.
During the previous century, several people coming from the Canary Islands arrived in Cabaiguán, where they settled down. Many years afterwards, this foreign influx made the region be known as the Canary capital of Cuba.