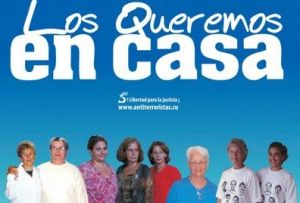 On November 5th, in the Cuban central province of Sancti Spiritus, an important initiative was taken by the Committee of Mothers for the Freedom of The Five, the club Patria of the Jose Marti Cultural Society and the House of the Guayabera.
The group Los 5 por los Cinco (The Five for the Five) was inaugurated at Quinta Santa Elena with the aim of demanding the freedom of Cuba's heroes.
Nearly a hundred members attended the inaugural meeting, which will take place from now on, the fifth day of each month, when the White House's mailbox collapses with demands for justice from around the world and Yayabo village's voices are no exception.
Inserted into the Universities Network in Solidarity with the Cuban Five, along with more than 5000 people around the globe, university grandparents sent President Barack Obama on Monday, children letters demanding the immediate release of the Cuban heroes.
Norma Garcia Machado, president of the committee board, urged the American people to search for the truth of the case, misrepresented by American news sources to avoid international support.
According to Olania Rodríguez Peña, member of the Committee of Mothers, other solidarity committees have been created in Sancti Spiritus. "These spaces dedicated to our five brothers, said Peña, are grains of sand in this huge fight for their return to the Motherland"