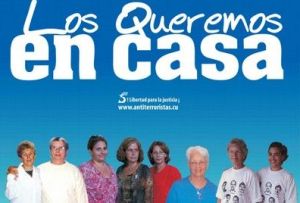 Sancti Spiritus's Committee of Mothers for the Freedom of The Five will participate in the 3rd Meeting of the Network of Universities in solidarity with the Cuban anti-terrorist fighters, to be held October 5 to 6, in Havana.
Olania Rodríguez Peña, member of the committee board, referred to the actions taken in several primary education institutions from the capital city, especially in the Remigio Díaz Quintanilla School, to provide students with values such as patriotism, solidarity, and humanism, having Gerardo Hernández, Fernando González, Ramón Labañino, Antonio Guerrero and René González as referential figures.
Rodriguez stated that in order to increase the concern of children, teenagers and youth towards the cause of the Cuban Five, as they are internationally known, it is essential to use creative ideas, in order to stimulate their interest to get to know the ethical and moral greatness of these men.
Talks on the missions carried out by the Five when monitoring anti-Cuban terrorist groups in Florida, and the writing of texts, are some of the actions promoted by the committee in the schools.
According to the committee representative, the solidarity group is closely linked to the University Chair of the Elderly in Sancti Spiritus, which stands out for its active community work.
The debates of the 3rd Meeting of the Network of Universities for the freedom of The Five, will focus on the consolidation of the network itself, on the ethical and moral values of Gerardo, Ramón, Antonio, Fernando and René, and on searching for ways to reach higher education institutions in the United States.
The meeting will be held at Havana's José Antonio Echeverría University, the largest polytechnic institution in the island, also referred to as The House of The Five.